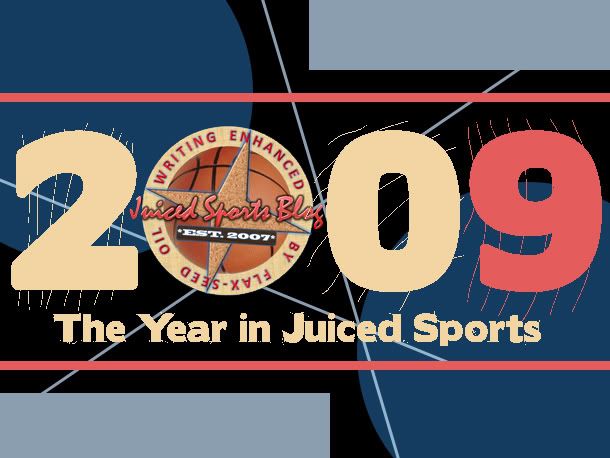 It's quite a year for the "Colin Cowherd of Blogs."  Here is a collection of our favorite articles from 2009.

SCOTT JACOBS
Wow time flies when you follow sports.  It feels like just yesterday we were putting out the 2008 version of this list, but nope, just about 365 days have passed and a new decade (the tens?) awaits.  I bet Tiger Woods wishes he could go back in time.  Back in 2008 he was king of the sports world and could do no wrong.  Let's just say this year that changed.
Here in a month by month breakdown, we rewind 2009, the year in Juiced Sports.
Happy Holidays fellow sports fans!  Enjoy!
January
>  The Anaheim Angels are Officially Dead
>  How About the Ole Miss Rebels
> Juiced Sports wins the Gunaxin Blog Bowl
> Anonymous (Arizona) Cardinals Now on Center Stage
February
> What Haven't You Done for Me Lately?
> Elgin Baylor is Suing the Clippers (There are Serious Allegations Too)
> JSB Featured on Paul Lukas' Uni Watch
> Farewell Brett Favre: It's Been Fun (and Interesting)
> What Can We Really Believe Anymore?
> Excessive Punishment for the Rich and Famous
March
> Picture Perfect
> Goodell's Rule Changes Push the NFL Towards Flag Football
> Mid-Majors Don't Deserve to Play in March Madness
> Six OT! And Not a Second More
> JSB Exclusive: Our Interview with Bill Laimbeer
> Location, Location, Location Always Goes to the Highest Seeds in the NCAA Tournament
> Lost at Sea: The Coast Guard Calls it's Search Off
> This Isn't the Escape Sports Fans Need Right Now
April
> Adenhart's Death Yet Another Sombering Reminder that We Can't Take Life for Granted
> Tarred and Clobbered: UNC Crushes Overmatched Spartans
> This Just In: Scot Pollard is Not the Smartest Tool in the Shed
May
> Welcome to the Show Superman
> What if the NFL Didn't Give Mike Vick a Second Chance?
> Not Reality, T.O.-actuality
> Baseball and Cheating: America's National Pastimes
> Congress Gets Back to Work: Tries to Take Over the BCS
June
> Just Blame the Blogger, How Convenient!
> Does Dwight Howard Want to be Great (Or is he Just Satisfied Being Good)?
> Double Dose of the Van Gundys is Reason Enough to Watch NBA Finals
July
> After All That, Brett Favre is Staying Retired
> Newsflash: Enough of the Freaking SEC
> Sure Cleveland, You Love Shaq Now…
August
> When You Kill a Man, You Miss a Season in the NFL
> Scoreboards Gone Wild
> No Hard Feelings, But Jackson Wants to Win
September
> Whicker's Column: A Deathblow to Responsible Journalism
> Coyotes Situation Truly a Nightmare
> BuffaNO!
October
> For Brett Favre, He's Still Got It
> A Minnesota Story
> Are You Ready for the Playoffs?
November
> Why Try, When You Can Play Nobody?
> R.I.P. Steve Ellis
> College Football Could Really Use Some Chaos
December
> Tiger's Fall From Grace is Shocking, But Should it Be?
> Henry's Death Both Bizarre and Disheartening
> Bloggers Will Read Your Press Release, But Not Write About It
> JSB is SportsNation's Site of the Day!
> Hey Ma, Look We're on TV!


Popularity: 7% [?]